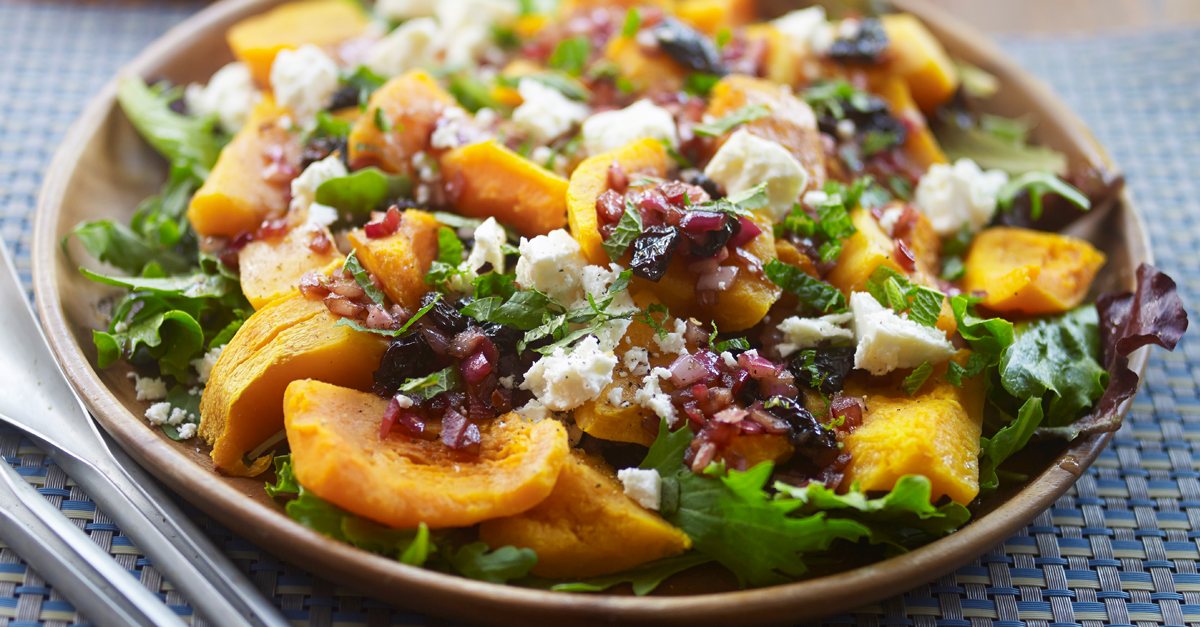 A sweet, warming salad drizzled with a refreshing tangy dressing. This is excellent warm or cold. Add some protein if you wish - eggs, fish or chicken works well. 
Preparation: 15 minutes
Cooking Time: 24 minutes
Serves: 4
Ingredients
800g Butternut squash peeled and cut into chunks (~2cm)
4 tbsp Olive oil
1 tsp Sea salt
Black pepper
2 Garlic cloves, crushed
3 tbsp Raspberry vinegar
15mls CherryActive concentrate
1 Red onion, diced
Pinch of chilli flakes
2 tbsp Chopped fresh mint
200g Mixed salad leaves
150g Feta cheese, crumbled
60g Toasted cashew nuts

Method
Heat the oven to 200C, gas mark 6.
Place the butternut squash in a large baking dish. Toss with two of the tablespoons of olive oil and season with salt and pepper.
Bake in the oven for 20 minutes until golden and soft.
Heat the remainign oil in a frying pan. Add the onion and garlic and saute for two minutes. 
Pour in the vinegar, CherryActive concentrate, chilli flakes  and simmer for two minutes until syrupy.
Place the salad leaves on a large platter or bowl. Spoon the butternut squash on top and drizzle over the cherry dressing, feta, chopped mint and toasted nuts to serve. 
Oct 28, 2016

Category:

Recipes
Comments: 0