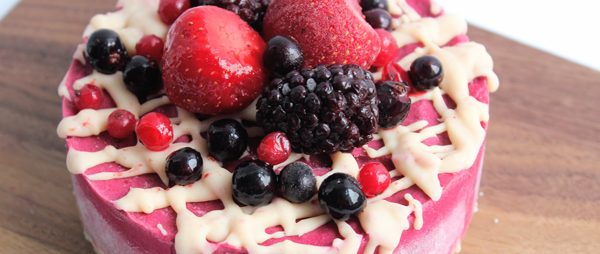 SpamellaB has treated us to something special with this recipe! Trust us it tastes just as good as it looks. We recommend you checkout her blog and social media for some excellent ways to indulge innocently.
Serves: Makes one 15cm cheesecake
Ingredients:
For the base -
50g Desiccated coconut
3 tbsp Coconut flour
2 tbsp Cashew or almond butter
3 tbsp Maple syrup or honey 
For the topping -
2 Frozen bananas
100g Frozen berries
1 x Can coconut milk, chilled in the fridge overnight
2 tbsp BeetActive
®
concentrate
4 tbsp Maple syrup or honey
1 tsp Vanilla extract 
To decorate -
30g White chocolate (can be vegan/dairy-free)
1 tsp Coconut oil
Berries, to decorate
Method:
First make the base; Mix together the ingredients in a bowl to combine, then press into a 15cm loose-bottomed cake tin with your fingers to evenly cover the base. Set aside.

Now make the topping; Place the frozen banana, berries, 4 tablespoons of the solid coconut cream from the can, BeetActive concentrate, maple syrup/honey and vanilla in a high-power blender and whizz up until quite thick and completely smooth.

Spoon over the base and fill to reach just the top. Place in the freezer for at least 4 hours to set.

Once set, gently melt the white chocolate and coconut oil. Remove the cheesecake from the freezer and gently release from the tin. Drizzle over the melted chocolate and scatter the berries on top. Now slice and serve!

Keep any remaining cheesecake slices in the freezer for up to 1 month.
If you would like to follow SpamellaB on social media or visit her blog please use the links below: -
Blog: SpamellaB's Healthy Food Blog
Instagram: @spamellab
Twitter: @SpamellaB
Jun 16, 2017

Category:

Recipes
Comments: 0