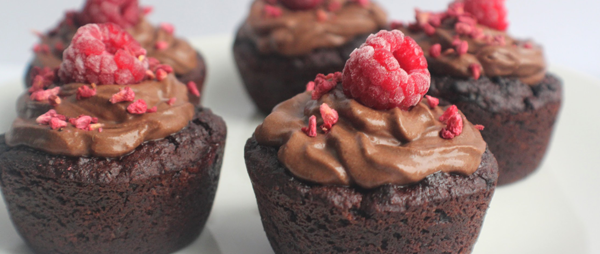 Ingredients:
For the muffins -
2-3 large chunks cooked beetroot
2 tablespoons coconut oil
4 tablespoons maple syrup
4 tablespoons cacao powder
1 teaspoon vanilla extract
150ml Almond milk
30ml BeetActive Concentrate
100g Oat or cassava flour
50g Ground almonds or almonds flour
4 tbsp Stevia or coconut sugar
1 tsp Baking powder
1 tsp Bicarbonate of soda
1 tsp Apple cider vinegar
6 tsp No added sugar raspberry jam 
For the frosting: -
1 can Coconut milk, chilled in the fridge overnight
2 tbsp Maple syrup
1 tbsp Coconut oil
3 tbsp Cacao powder
½ tsp Vanilla extract
Fresh or frozen raspberries, to decorate 
Method
Preheat the oven to 180C. Grease and line 6 muffin tins.
Blend the beetroot in a food processor until completely smooth.
Melt the coconut oil and maple syrup, then whisk in the cacao powder to form a smooth chocolate sauce. Pour this into the blended beetroot and whizz up again.
Pour this into a bowl and stir in the vanilla, almond milk and beetroot concentrate. Now add the flour, almonds, stevia/coconut sugar, baking powder, bicarbonate of soda and apple cider vinegar - you should have a nice chocolatey batter.
Spoon half of the mixture between the 6 muffin holes. Place a spoonful of jam in the centre of each, then top with the rest of the cake mixture to cover.
Bake for 20-25 minutes, until risen and firm to the touch. Leave to cool.
Meanwhile make the frosting (this can be made up to 1 week in advance): Scrape the solid coconut cream from the tin (discard the rest) and place in a bowl. Melt the coconut oil and maple syrup then whisk in the cacao powder. Pour this in along with the vanilla, then use a whisk to whip up. Chill in the fridge for at least 1 hour.
Once the muffins have cooled, remove from the tin and place on a plate. You may choose to either spoon over the frosting or use a piping bag to pipe on top,
Decorate with a raspberry - now enjoy!
Keep any remaining muffins in an airtight container in the fridge for up to 2 days.
Oct 06, 2017

Category:

Recipes
Comments: 0