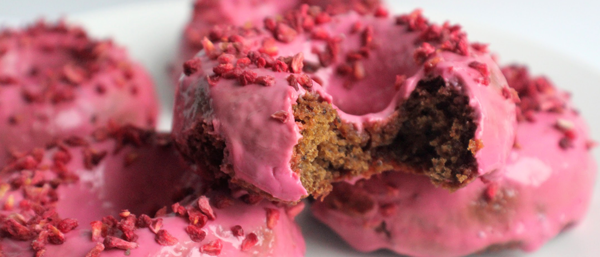 How good do these beetroot donuts from SpamellaB look? Her blog and social media are an excellent source of ways to indulge healthily, we recommend you check them out for yourself.
Serves: Makes 6 donuts
Ingredients
For the donuts: -
1 large or 2 small Ripe bananas
4 tbsp Maple syrup
4 tbsp Coconut oil, melted
150ml Almond milk
2 tbsp BeetActive concentrate
1 tsp Apple cider vinegar
1 tsp Vanilla extract
150g Oat flour
50g Ground almonds
2 tbsp Flaxseeds
½ tsp Ground cinnamon
1 tsp Baking powder
½ tsp Bicarbonate of soda
For the icing: -
200g coconut yogurt
1 tbsp CherryActive Beetroot Concentrate
1 tbsp Coconut oil, melted
2 tbsp Maple syrup
Freeze-dried raspberries, to decorate
Method
Preheat the oven to 180 degrees C and grease a 6-hole donut tin.
Place the banana(s), maple syrup, coconut oil, almond milk, beetroot concentrate, vinegar and vanilla in a blender and whizz up until smooth.
Mix the oat flour, ground almonds, flaxseeds, cinnamon, baking powder and bicarbonate of soda in a large bowl.
Pour in the wet ingredients and mix well to form a pink batter.
Divide this between the donut holes to reach the top and smooth out. Bake for 20 minutes, until risen and firm. Leave to cool then turn out onto a wire rack.
Meanwhile make the frosting: Beat together the ingredients and keep in the fridge until needed.
When your donuts have cooled, spread each donut with the frosting to cover, then sprinkle with freeze-dried raspberries. Now enjoy!
Keep any remaining donuts in an airtight container in the fridge for up to 3 days.
If you would like to follow SpamellaB on social media or visit her blog please use the links below: -
Blog: SpamellaB's Healthy Food Blog
Instagram: @spamellab
Twitter: @SpamellaB
Mar 24, 2017

Category:

Recipes
Comments: 0