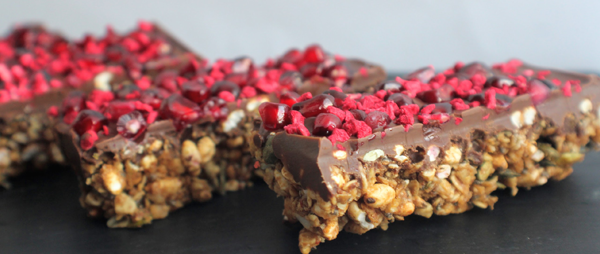 Serves: Makes 9-12 bars
Ingredients:
For the puffed rice base: -
100g Rolled oats
50g Plain puffed rice
25g Desiccated coconut
25g Mixed seeds (sunflower, pumpkin)
2 tbsp Chia seeds
2 tbsp Coconut oil
15mls PomegranateActive
3 tbsp Maple syrup
2 tbsp Nut butter
For the chocolate layer: -
75g Raw vegan dark chocolate
1 tsp Coconut oil
2 tbsp Pomegranate seeds
2 tbsp Freeze-dried raspberries  
Method
Mix together the oats, puffed rice, coconut and seeds in a large bowl.
Melt the coconut oil, maple syrup and nut butter then set aside and leave to cool slightly. Whisk in the PomegranateActive.
Pour this into the dry ingredients and mix together really well - it should be a little sticky and come together nicely.
Line a 9 x 9in baking tin with greaseproof paper then tip the mixture in and spread out evenly. Pack it in really tightly then chill in the fridge for at least 2 hours.
Melt the chocolate and coconut oil on a low heat, then pour this over the top to cover. Scatter over the pomegranate seeds and raspberries then return to the fridge for at least 2 hours to set.
When you're ready to serve, lift out the whole batch and place on a chopping board. Cut into 9-12 bars then enjoy!
Nov 03, 2017

Category:

Recipes
Comments: 0