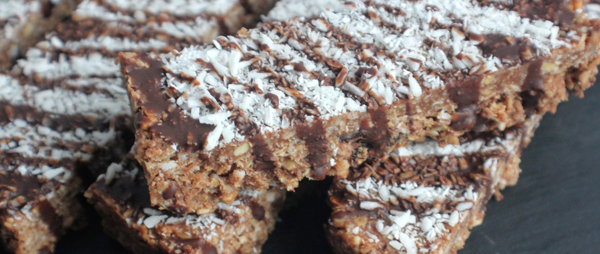 Here is another fantastic recipe from blogger SpamellaB. Her blog and social media are an excellent source of ways to indulge healthily, we recommend you check them out for yourself.
Serves: Makes 5 bars
Ingredients:
½ cup Coconut oil
1 cup Nut butter
½ cup Maple syrup
1 tsp Vanilla
1 ½ cups Rolled oats
1 cup unsweetened Desiccated coconut
2 tbsp Cocoa or cacao powder
4 tbsp diced CherryActive dried cherries
1 tsp Cinnamon
Dark chocolate, to drizzle
Method:
Gently melt the coconut oil, nut butter and maple syrup. Remove from the heat then stir in the vanilla.
Pour in the oats, coconut, cacao/cocoa powder, diced cherries and cinnamon and stir well to combine and so the mixture comes together.
Tip this into a lined tupperware box or small rectangular tin, smooth out evenly and press down well. Sprinkle over some extra desiccated coconut and chill in the fridge to firm up for at least 2 hours.
Remove the whole thing and turn out onto a chopping board. Slice into bars and drizzle over some melted dark chocolate if you wish (return to the fridge for 15 minutes to set). Now enjoy!
Keep any remaining flapjack bars in an airtight container in the fridge for up to 1 week.
If you would like to follow SpamellaB on social media or visit her blog please use the links below: -
Blog: SpamellaB's Healthy Food Blog
Instagram: @spamellab
Twitter: @SpamellaB
Apr 26, 2017

Category:

Recipes
Comments: 0