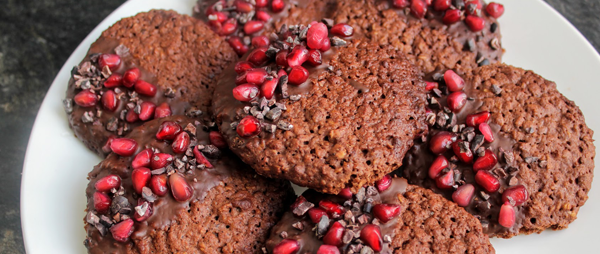 Ingredients:
For the cookies: -
120g Oat flour
2 tbsp Cacao or cocoa powder
50g Coconut sugar
½ tsp Bicarb of soda
70g Coconut oil, melted
30mls PomegranateActive
1 Egg
3 tbsp Nut butter of choice
To decorate: -
50g Dark chocolate, broken into pieces
1 tbsp Coconut oil
3 tbsp Pomegranate seeds
4 tbsp Cacao nibs
Method:
Preheat the oven to 180C and grease and line a large baking sheet.
Mix together the oat flour, cacao/cocoa powder, coconut sugar and bicarb of soda in a bowl.
Whisk the melted coconut oil, PomegranateActive, egg and nut butter well then pour this into the dry ingredients and stir to combine.
Spoon a tablespoon of the mixture on the prepared baking tray for each cookie, leaving space in between (they will spread when baked!). Bake for 8-10 minutes, leave to cool then place on a wire rack.
Once cooled, melt the chocolate and coconut oil then coat half of each cookie. Sprinkle over pomegranate seeds and cacao nibs then leave to set. Enjoy!
Nov 17, 2017

Category:

Recipes
Comments: 0