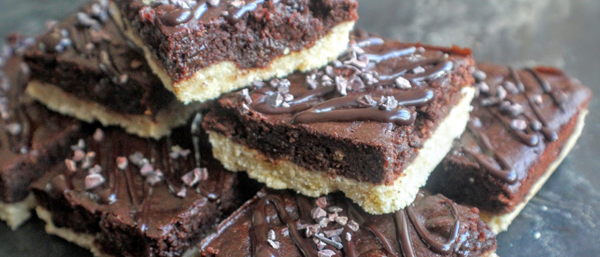 Our resident health food blogger SpamellaB has created this fantastic recipe to help you indulge innocently. Her blog and social media are an excellent source of ways to indulge healthily, we recommend you pay them a visit. 
Serves: Makes 12 brownies
Ingredients:
For the shortbread base: -
1 cup Ground almonds
½ cup Oat flour (whizz oats in a blender)
3 tbsp Coconut sugar or stevia
½ tsp Baking powder
½ tsp Vanilla extract
3 tbsp Coconut oil, melted
1-2 tbsp Almonds milk
For the cherry brownie topping: -
6 tbsp CherryActive® dried cherries
1 large Orange
4 tbsp Coconut oil
4 tbsp Maple syrup
5 tbsp Cacao powder
2 eggs, beaten
½ cup Ground almonds
½ cup Oat flour
1 tsp Baking powder
1 tsp Ground cinnamon
3-4 tbsp Coconut sugar or stevia
Method
Preheat the oven to 180C and grease and line a 20cm square or rectangular baking tin.
Zest and juice the orange and place in a small bowl with the dried cherries. Leave to soak for at least 15 minutes.
Meanwhile make the shortbread base: Mix together the ground almonds, oat flour, stevia/coconut sugar and baking powder in a bowl. Gradually pour in the melted coconut oil and almond milk, stirring to form a dough.
Tip this into your lined baking tin and press into the tin evenly, covering the base completely. Bake for 10-15 minutes, until slightly golden.
While the base is baking, gently melt the coconut oil and maple syrup in a small pan. Remove from the heat and whisk in the cacao powder to form a smooth glossy sauce.
Mix together the ground almonds, oat flour, baking powder, cinnamon and coconut sugar/stevia in a bowl. Pour in the chocolate sauce and beaten eggs and fold in along with the soaked cherries and their juices to form a chocolate batter.
Remove the half-baked base from the oven, pour over the brownie mixture and smooth out. Return to the oven for at least 20 minutes, until firm to the touch. Leave to cool completely, then slice into 12 bars. Decorate with melted dark chocolate and cacao nibs if you wish!

 
If you would like to follow SpamellaB on social media or visit her blog please use the links below: -
Blog: SpamellaB's Healthy Food Blog
Instagram: @spamellab
Twitter: @SpamellaB
Feb 10, 2017

Category:

Recipes
Comments: 0