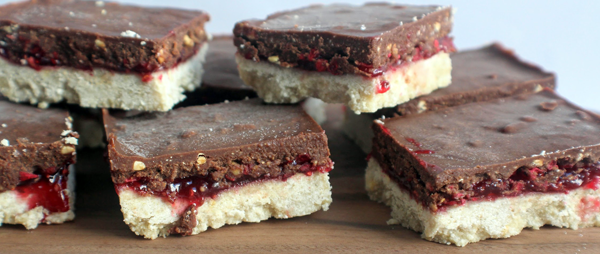 This new recipe from SpamellaB should prove popular, we don't know many people who aren't fans of chocolate, cookie dough and jam. This recipe combines all of them to make these fantastic treats. Her blog and social media are an excellent source of ways to indulge healthily, we recommend you check them out for yourself.
Serves: Makes 8 squares
Ingredients:
For the cookie dough base -
75g Coconut flour
25g Oat flour
2 tbsp Coconut oil
2 tbsps Maple syrup
1 tsp Vanilla extract
2 tbsp Almond milk
For the cherry jam layer -
100g fresh or Frozen cherries
2 tbsp Maple syrup or honey
2 tbsp CherryActive
®
 concentrate
4 tbsp Chia seeds 
For the chocolate layer -
4 tbsp Almond butter
2 tbsp Coconut oil
4 tbsp Maple syrup
2 tbsp Cacao or cocoa powder
Method
First make the base: Mix together the coconut flour and oat flour in a bowl. Melt the coconut oil then add to the dry ingredients along with the maple syrup, vanilla and milk. Stir well to form a dough. Press into the base of a lined tupperware box.
Now make the jam: Place the cherries in a pan with the maple syrup/honey and cherry concentrate. Simmer for 10 minutes, then stir in the chia seeds and set aside for at least 30 minutes to form a jam.
Next spread the jam over the base to cover. Place in the freezer while you make the next layer.
Gently melt the almond butter, coconut oil and maple syrup, then remove from the heat and whisk in the cacao/cocoa powder. Pour this over the jam layer evenly then return to the freezer for at least 3 hours.
When ready to serve, remove from the freezer and place onto a chopping board and use a large knife to cut into squares. Enjoy!
If you would like to follow SpamellaB on social media or visit her blog please use the links below: -
Blog: SpamellaB's Healthy Food Blog
Instagram: @spamellab
Twitter: @SpamellaB
Jul 07, 2017

Category:

Recipes
Comments: 0