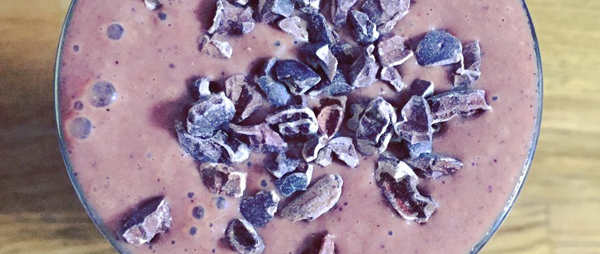 Looking for a post workout smoothie idea or just a massive antioxidant boost? Look no further this fantastic CherryActive cacao superfood smoothie. Thank you to Emily from food@one for this recipe, she likes this because of the delicious combination of cherry and cacao. "The superfoods of maca, camu camu and baobab help to balance hormones, provide energy, stamina, help with digestion and build strong immune systems". 
Serves: Makes one smoothie
Ingredients
1/3 Frozen banana
1 Handful frozen blueberries
100ml Coconut water
200ml Almond milk
30ml CherryActive concentrate
1-2 tbsp Cacao nibs
1 tbsp Cacao powder
1 tbsp Pea protein powder
1 tsp Camu camu powder
1 tsp Baobab powder
1 tsp Maca powder
Method
Place all of the ingredients into your blender.
Blend until smooth.
Mar 02, 2017

Category:

Recipes
Comments: 0