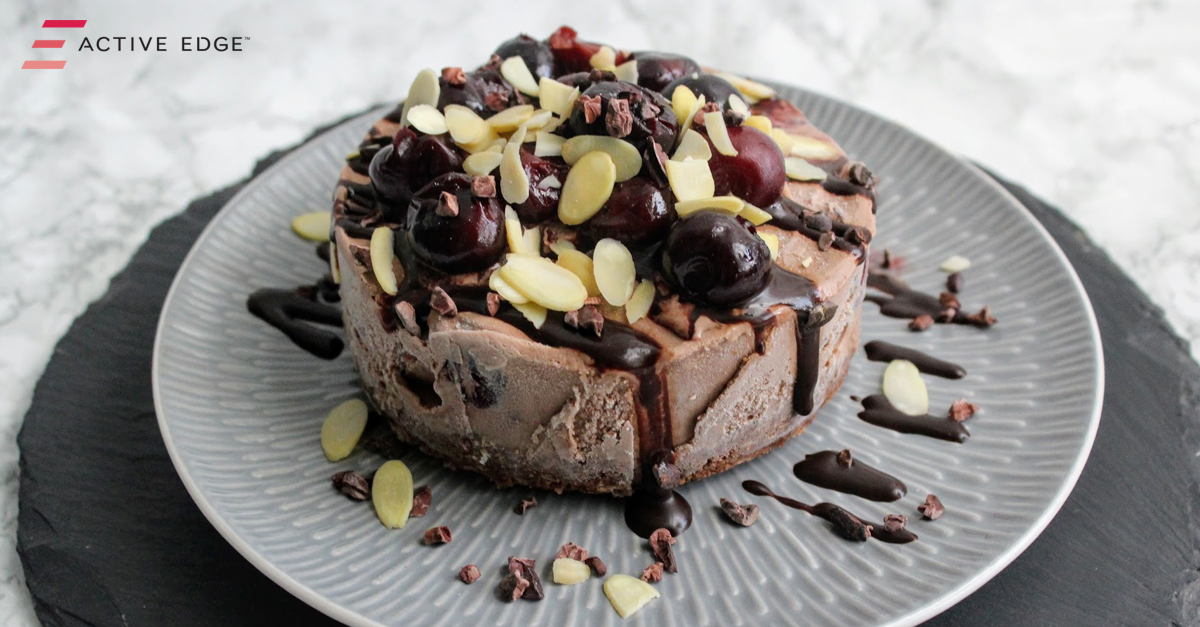 Serves: 4-6 people
Ingredients:
For the base: -
75g Rolled oats
50g Ground almonds
3 tbsp Cacao or cocoa powder
2 tbsp Coconut oil
2 tbsp Maple syrup  
For the filling: -
3 Frozen bananas
45mls CherryActive Concentrate
2 tbsp Maple syrup
5 tbsp Cocoa powder
10 Cherries, pitted and halved
To decorate: -
Fresh cherries
50g Dark chocolate, broken up into pieces
1 tsp Coconut oil
Cacao nibs
Flaked almonds
Method:
First make the base: Mix together the oats, ground almonds, cacao/cocoa powder in a bowl. Melt the coconut oil and pour in along with the maple syrup then mix together to combine. Press into a lined 18cm loose-bottom cake tin.
Place the frozen bananas, CherryActive, maple syrup and cocoa powder in a blender and whizz up until smooth. Stir in the cherries evenly then spoon over the base, smoothing out the top. Freeze for at least 4 hours.
When ready to serve, pop out the freezer 5-10 minutes beforehand. Gently melt the dark chocolate and coconut oil.
Remove the cake from the tin and place on a serving board or plate. Drizzle over the chocolate then top with cherries, flaked almonds and cacao nibs. Cut into 4-6 slices then serve straight away!
Jun 22, 2018

Category:

Recipes
Comments: 0