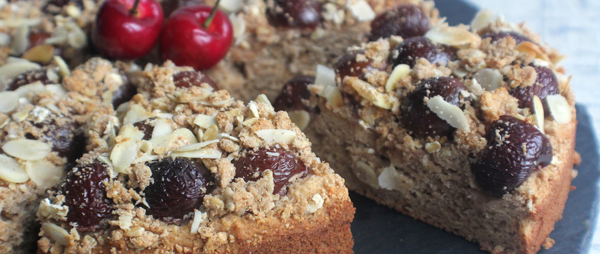 Big thank you to our resident health food blogger SpamellaB for this fantastic recipe. Her blog and social media are an excellent source of ways to indulge healthily, we recommend you check them out for yourself.
Serves: Makes 6 slilces
Ingredients:
For the cake: -
100g Plain flour (can be gluten-free)
50g Ground almonds or almond flour
1 tsp Ground cinnamon
50g Stevia or coconut sugar
1 tsp Baking powder
100ml Almond milk
2 tbsp CherryActive Cherry Concentrate
1 Egg
2 tbsp Coconut oil (or butter), melted
350g Fresh cherries, halved and stoned  
For the crumble topping: -
20g Ground almonds or almond flour
15g Stevia or coconut sugar
¼ tsp Ground cinnamon
20g Solid coconut oil or butter
15g Flaked almonds
Method
Preheat the oven to 180 degrees and grease and line a 20cm deep round loose-bottomed cake tin.
Mix together the flour, ground almonds, cinnamon, stevia/coconut sugar and baking powder in a large bowl.
Whisk together the milk, egg, CherryActive concentrate and melted coconut oil or butter until frothy, then whisk into the dry ingredients, beating well.
Spoon the mixture into the prepared tin and smooth out evenly. Arrange the cherry halves over the top (cut side down) and press them in slightly.
Now rub together the topping ingredients to form a crumble texture, then scatter this over the cherries.
Bake for a total of 35 minutes (cover with tin foil 10 minutes in), until firm. Leave to cool in the tin, then run a knife around the edge and push out onto a serving plate, peeling off the grease-proof paper and removing the cake tin base. Slice up and serve!
Keep any remaining slices of cake in an airtight container for up to 3 days.
If you would like to follow SpamellaB on social media or visit her blog please use the links below: -
Blog: SpamellaB's Healthy Food Blog
Instagram: @spamellab
Twitter: @SpamellaB
Mar 03, 2017

Category:

Recipes
Comments: 0