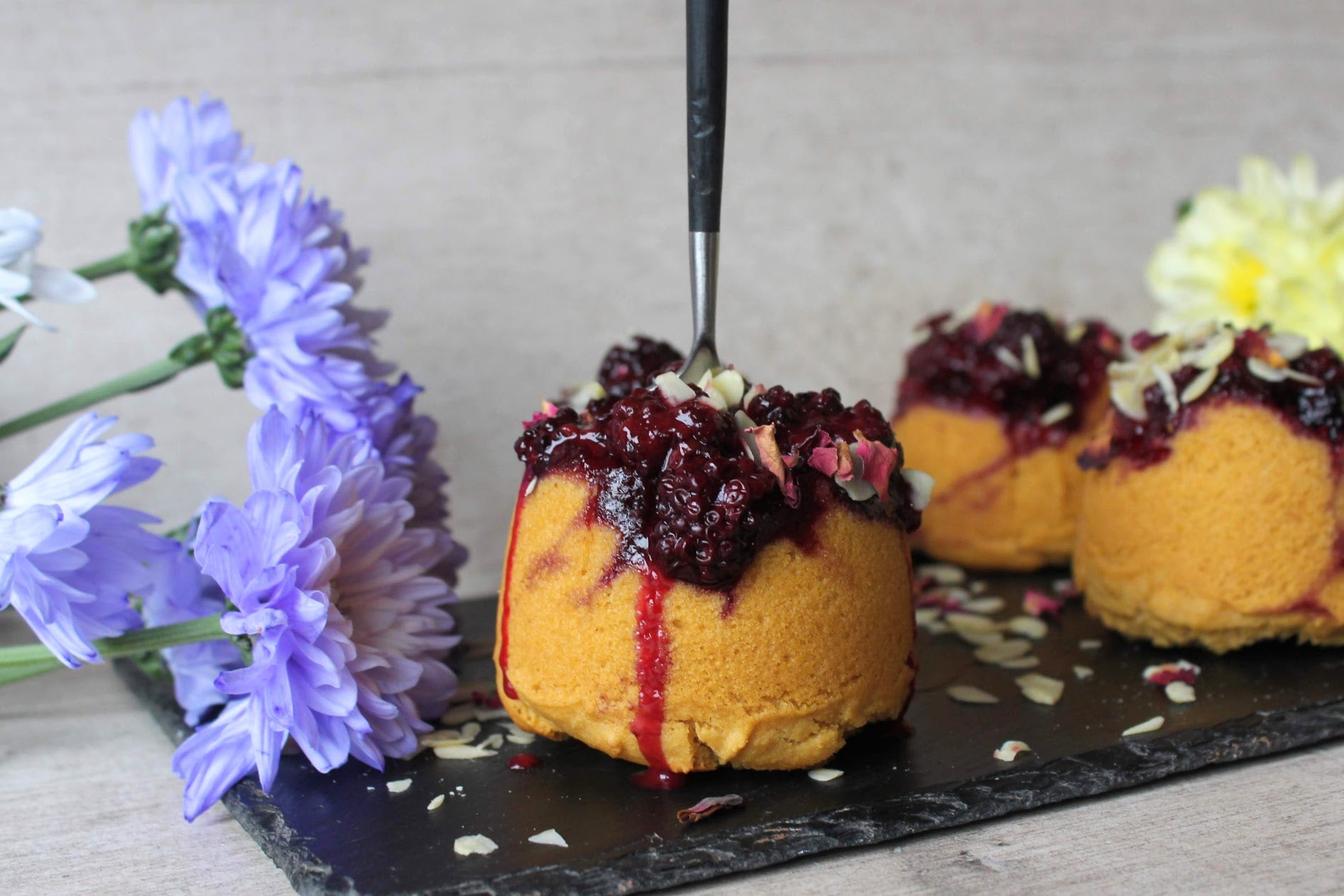 These delicious puddings take next-to-no-time to prepare and taste amazing! 
Serves: 4
Prep time: 15 minutes
Cooking time: 25-30 minutes


Ingredients:
For the puddings -
100g instant polenta
100g ground almonds
50g gluten-free plain flour
75g coconut sugar
1 teaspoon baking powder
Zest and juice of 2 lemons
1 teaspoon vanilla extract
75ml olive oil
75ml almond milk


For the blackberry & pomegranate glaze -
200g blackberries
3 tablespoons maple syrup
30mls Pomegranate Concentrate
2 tablespoons cornflour


Get making!
Preheat the oven to 180 degrees C and grease 4 x 150ml pudding tins.
Mix together the polenta, ground almonds, flour, coconut sugar, baking powder and lemon zest in a bowl.
Pour in the olive oil, milk, vanilla and lemon juice and mix to combine and form a batter. Set aside.
Meanwhile place the blackberries in a pan with the maple syrup and pomegranate concentrate and simmer for 5 minutes until softened. Mix the cornflour with 2 tablespoons water and pour in. Cook for a couple more minutes, stirring well so the sauce thickens.
Spoon the blackberries and some of the sauce between each tin in a generous layer then pour over the batter to reach the top.
Bake for 25-30 minutes until risen and golden. Leave to cool for 15 minutes then run a knife around each one and turn upside down onto a plate. Enjoy either hot or cold.
Oct 03, 2018

Category:

Recipes
Comments: 0