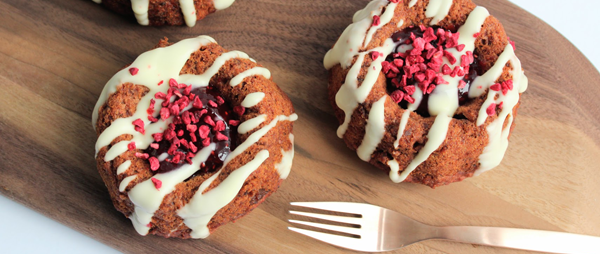 Here's the latest recipe from SpamellaB,  This recipe combines some great ingredients to create some fantastic Bundt cakes. Her blog and social media are an excellent source of ways to indulge healthily, we recommend you check them out for yourself.
Serves:
 Makes 4 cakes
Ingredients:
For the cakes: -
200g Oat flour
2 tbsp Flaxseed
50g Coconut sugar
1 tsp Baking powder
1 tsp Bicarbonate of soda
100ml almond milk
3 tbsp BeetActive® concentrate
4 tbsp Coconut oil, melted
4 tbsp Maple syrup
1 tsp Vanilla extract
4 dsp Jam (can be no added sugar)
To decorate: -
50g White chocolate, broken into pieces
1 tsp Coconut oil
3 tbsp Freeze-dried raspberries
Method
Preheat the oven to 180C and grease 4 small Bundt cake tins and place on a baking tray.
Mix together the oat flour, flaxseeds, coconut sugar, baking powder and bicarbonate of soda in a bowl.

Stir in the almond milk, BeetActive concentrate, coconut oil, maple syrup and vanilla and fold in to form a batter.

Spoon some of the mixture between the tins then place a dessertspoon of the jam into the middle of each.
Top with the remaining batter to reach the top then bake in the oven for about 25-30 minutes, until risen and firm to the touch. Leave to cool then turn out onto a wire rack.
Gently melt the chocolate and coconut oil. Turn each pudding out onto a serving plate upside down, then drizzle with some melted chocolate and sprinkle over some freeze-dried raspberries. Enjoy!
If you would like to follow SpamellaB on social media or visit her blog please use the links below: -
Blog: SpamellaB's Healthy Food Blog
Instagram: @spamellab
Twitter: @SpamellaB
Jul 21, 2017

Category:

Recipes
Comments: 0