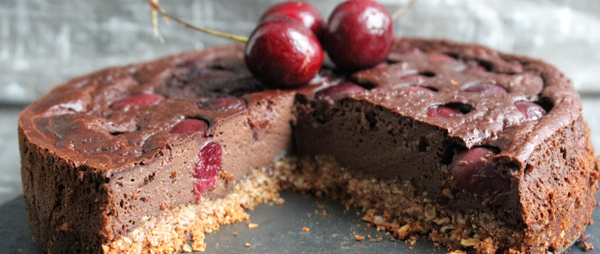 Ingredients:
For the base: -
100g Rolled oats
50 Ground almonds
2 tbsp Cocoa or cacao powder
3 tbsp Honey or maple syrup
2 tbsp Coconut oil
2 tbsp Nut butter 
For the cheesecake: -
300g Natural or soya yogurt
2 Eggs
30ml CherryActive concentrate
2 tbsp Maple syrup or honey
2 tbsp Cornflour
3 tbsp Cocoa or cacao powder
1 tsp Vanilla extract
About 20 cherries, stoned and halved
Method:
Preheat the oven to 180C and grease and line a 20cm loose-bottomed round tin.
First make the base: Mix together the oats, ground almonds and cacao/cocoa powder in a bowl. Gently melt the honey or maple syrup, coconut oil and nut butter then stir into the dry ingredients. Tip this into the tin and press evenly across the base to cover. Bake for 10 minutes.
Meanwhile whisk together the yogurt with the eggs, CherryActive maple syrup or honey, cornflour, cacao/cocoa powder and vanilla until completely smooth.
Remove the base from the oven and pour over the chocolate cheesecake mixture. Scatter over the cherry halves on top.
Return to the oven for 30 minutes or until golden and firm. Leave to cool completely then chill in the fridge for at least 1 hour.
When ready to serve, remove from the tin and slice up - now enjoy!
Sep 15, 2017

Category:

Recipes
Comments: 0