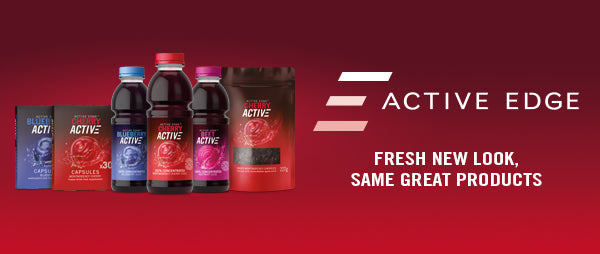 Today we are pleased to announce our re-brand with fresh new packaging, a new product pipeline and a new name; 'Active Edge'.
We originally launched as CherryActive in 2006 with one single product, and now boast a wide portfolio of 100% natural products with a variety of health and fitness benefits backed by scientific research. 
The existing range is chosen by consumers serious about maintaining good health and optimising their fitness training. Ranging from gout suffers all the way through to Olympic athletes.
Last year marked our 10th anniversary, which was the perfect time for reflection. MD John Carey decided the name and packaging no longer reflected the high quality brand and range of products, and Active Edge was born.
Active Edge will offer the same great products as before, but with a fresh new look. He clarifies, "The only changes are the name of the company to Active Edge and the look and feel of the products.
This is great news for fans of our products, which have built a loyal following amongst professional sportsmen and women, athletes and consumers looking to improve their health. Carey says, "Each product in the Active Edge range has different and specific functional benefits, so there really is something to help everyone." 
To find our more about Active Edge products just click on this link!
Social Media Links: -
Facebook: www.facebook.com/activeedge
Instagram: www.instagram/activeedgeofficial
Twitter: www.twitter/activeedgeofficial