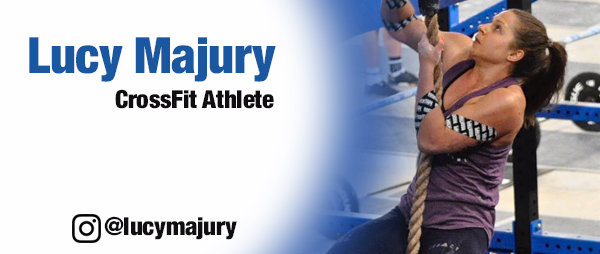 Name:
 Lucy Majury       
Year of Birth:
1988
Height:
5ft 2
Weight:
66 kg
Sport:
CrossFit and Powerlifting
Team/Club:
CrossFit Shapesmiths & CrossFit JST  
Tell us about yourself: 
I am a self-employed performance nutritionist at pH Nutrition as my main job and I have a few select p.t clients as well. I coach at CrossFit Shapesmiths once a week and train at Shapesmiths and In2 CrossFit in Farnham. I really enjoy my job and never dread waking up in the morning. I love being able to help people achieve and use my experience to see them grow as athletes and people. Being my own boss is amazing as it allows me to work my work around training which is essential when competing and recovering.
Tell us about the sport you compete in?
CrossFit – come on who doesn't know CrossFit! We sling bars around and hang from the rings and walk on our hands.
How did you become involved in it?
I kept driving past the local box near my house and always thought I wonder what they do in there but always believed I would never be able to do it after watching a few CrossFit videos on YouTube because at the time I was only 46kg. I then plucked up the courage and went in and never looked back. I also fell into powerlifting as they trained within the CrossFit gym and said I could compete and take World Records without training. I tried a competition 3 weeks later and took all the records. Oops!
What does an average training week consist of?
My training programming is written by Steve Fawcett and the team at CrossFit JST – I have been following their programme for my whole CrossFit Career. The boys have done well for me – I have been to regionals twice and aiming high to the Games.
I have 2 x training sessions a day 3-4 days a week during the week 1 x per day on sat, Active recovery on Thursday and rest Sunday
How does the Active Edge product range help you during training and competition?
Active Edge is massively beneficial to my performance in helping with training stress, oxygen uptake to recovery from training. You have it all pre and post recovery! I am loving the BeetActive most at the moment the difference I have felt in how I feel and perform in training is incredible. I have it in my breakfast smoothie every morning. PH Nutrition please never take this away from me! I defo crave the shake and I didn't even like beetroot before.
Highlight of career?
Making it to regional's 2016 as an individual
Who are your hero's?
My Grandad absolute legend
What are your future goals?
Get to the Games !!!
How do you relax away from your sport?
I go for nice country walks! I like to have headspace or meditate and I'm also on a mission to find the best coffee around I love trying new coffee shops or coffees at home – anyone with good coffee please send my way