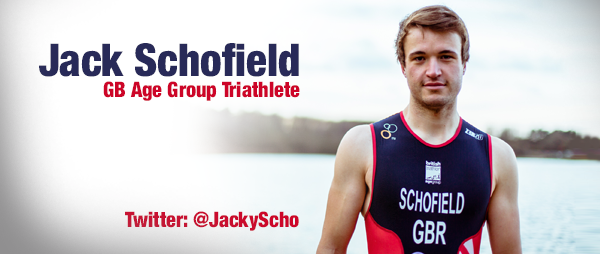 Name: Jack Schofield
Year of Birth: 1993
Height: 186cm
Weight: 81kg
Sport: Triathlon
Team/Club: British Triathlon
Tell us about yourself? 
An architecture graduate working as a marketing & social media manager for cyclestore.co.uk, I work part time to allow myself the maximum amount of time to train and compete.
Tell us about the sport you compete in?
I compete in long distance triathlon, more colloquially known as ironman.
How did you become involved in it?
I rowed at university then two good friends of mine convinced me to sign up to do an ironman for charity. We raised £6,500 for charities close to our hearts and I caught the bug. Less than two years later I was on the podium at world championships.
What does an average training week consist of?
I can train up to 35 hours a week. I'm usually in the pool 5 mornings a week, running 50-100km and cycling 400-800km. On my days off work I'll usually start with a dip in the pool, a long 16-25km run, then up to 160km on the bike to seal the day. If I'm working I'll try and get a session in before work, a quick run at lunch time then a steady spin after work to gather my thoughts.
How does the Active Edge product range help you during training and competition?
I drink CherryActive every evening before I go to bed to maximise sleep and recovery. It allows me to feel fresh each day and take the edge off the DOMs. I also use BeetActive in the build up to big competitions to maximise my performance.
Highlight of career?
I've only been in the sport 2 years but probably my medal at world championships, or my age group win at Ironman New Zealand. Racing unsupported on the other side of the world was quite something!
Who are your hero's?
Sebastian Kienle and Lionel Sanders definitely my triathlon heroes, I'm strong on the bike and run, but struggle in the swim, something I'm really working on, but it's nice to see them doing it.
Outside of sport my parents are fantastic role models, they've given me some fantastic opportunities in life and I certainly wouldn't be where I am without them!
What are your future goals?
I'd love to be competitive in the overall standings at ironman events, as well as the British All Rounder competition in cycling. This consists of the best average time over 50 mile, 100mile and 12 hour cycling time trials. I just want to be as fast as I can be, and maybe one day finish a race and think 'good work Jack'.
How do you relax away from your sport?
Relaxing isn't something I get much time to do in the busy schedule. But I enjoy dinners & drinks with friends, long catch ups after time away is always high on the agenda. Relaxed evenings in a quiet setting to forget about work or sport. Also time for travelling after international races is always a fantastic opportunity to grab a bit of down time. My girlfriend and parents are always first to grab the opportunity of time off though, so I'm rarely "relaxing".