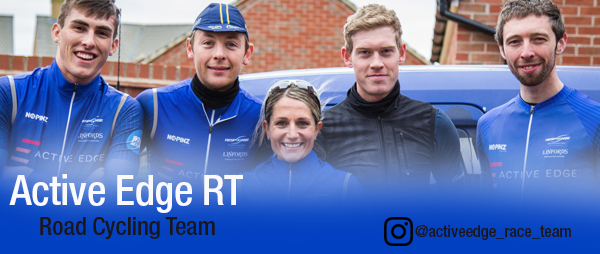 Name: ActiveEdge Race Team   
Sport: Road Cycling
We sat down with one of the creators of the team, Sam Woodfield and asked him about the team and how he got into the sport of road cycling.
Tell us About the team?:
The team will consist of 6 male riders, 2 female riders and 1 male triathlete.
The aim of the riders is compete in a local league with the aim of winning both team and individual prize in 2018. Within the male group there are two 1st Cat riders who will look to compete in British Cyclings' Premier calendar events against some of the domestic professional teams.
The two females will look to compete and race in as many races as possible. Whilst our Triathlete will be looking to qualify for the Olympic Distance age group world finals in 2018.
Tell us about the sport you compete in?
Racing is Racing is the easiest way to describe road racing. It often involves 60-80 riders competing over 60-100 miles over different types of terrain. There is an element of team work with in the sport allowing people to move into the correct breakaways and solo attempts.
It also requires a lot of dedication to both training in terms of miles and hours on the bike, whilst also having a well balanced, healthy varied diet allowing for maximum performance and recovery, whilst also being able to enjoy a slice of cake now again on a good old fashioned cafe ride!
How did you become involved in it?
I wanted to move away from the gym environment and go back to my roots which is endurance sport (I used to swim at National level) - I also started to cycle to help Debbie with her knee rehabilitation after a nasty injury. From there we started to take part in small sportive and that then lead to racing in March 2016!
What does an average training week consist of?
12-20 hours on the bike mainly - with two core sessions, and one massage
How does the Active Edge product range aid your training and competition?
Currently we use BeetActive in preparation for our key events, we all start to load 10-12 days prior to the event. I tend to use the BeetActive product throughout larger training blocks also to boost the nitrate level and aid performance gains.
The CherryActive range is a great way to aid recovery and sleep. We all use the concentrate and dried cherries after races and HIIT training sessions. I will also take a 30ml serving of the concentrate 3 nights prior to a race to aid with recovery and boost sleep.
Highlight of career?
Creating this team for the 2018 season. Also winning my first bike race in June of this year at Witham on the Hill, it was a Regional A, 2/3/4 race over 100Km of a rolling circuit.
Who are your hero's?
My Mum and my fiancé Debbie who also rides competitively
What are your future goals?
To take the team to the next level and be competing consistently at National B races, whilst also attending a few Premier events across the UK and in Ireland. An aim for 2018 is to take 4 riders to Thailand and compete in the Masters Tour of Chiang Mai.
How do you relax away from your sport?
I love to travel, explore the local. Whilst also experimenting with different recipes that aid both performance and training. And lots of Netflix!
Follow the teams progress via their Instagram and Facebook profiles.